S-CUBE
Shipping Solutions
S-CUBE is an innovative start-up created by container shipping experts and industrial engineers who collaborates to face challenges related to automation and efficiency in the shipping world.
With ARMS we have realized the "ARMS plug®", the core of a complete set of technical solutions to automate reefer operations. Our activities are now dedicated to automate reefer container management and bring a digitalization boost to shipping ports with Digital Twins and Big Data management solutions. In recent years our mission has been to make the automation of reefer management possible, safe and effective. To ensure that this purpose could be realized, we have acquired a series of patent management agreements and developed some patents that finally make it possible to automate the management of reefers in ports and container ships.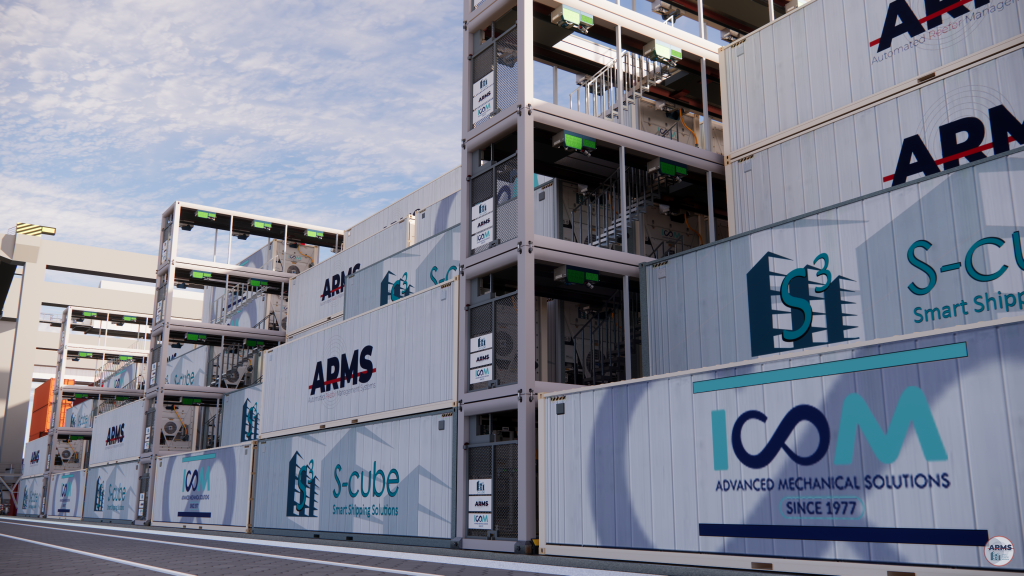 Potential Market Numbers
Reefer Slots In Marine Terminals Worldwide
Maritime Terminal Operators Already Involved In Project
Reefer Containers Travelling Around The World
Reefer Slots On ULCC Vessels (Units)
Our
Reefer Automation Equipments
Our Latest Product
Smart_rfRACK®
Smart_rfRACK® is a refrigerated rack made up of containerized modules, selected to adapt to the span of the lifting equipment used in the yard. Smart_rfRACK modules are compatible with shipping on board container ships and can be handled using port lifting equipment.
They are quick and easy to assemble and require very limited preparatory civil works.
All modules are pre-assembled in our factory, so rack build and commissioning time is limited to ONE WEEK.
Smart_rfRACK is the only reefer tower ready to host the 12n ARMS automation system, it can measure and invoice the individual reefer energy consumption and it also hosts all the S-CUBE smart solutions to improve handling operations.
Interested in working with S-Cube?
We don't just manage suppliers, we micro-manage them. We have a consultative, personalized approach